Have you ever gone on a diet? Tried to lose weight? Wanted to start exercising? Set a New Years' Resolution to get in shape? Maybe just wanted to be healthier?
How did it turn out?
You probably started it with hopeful enthusiasm, and a few weeks later (maybe months, maybe only days!), it had fizzled out. And honestly, you're really not to blame for that. My guess is you quit for one of the following reasons:
You felt like you were starving on the super-low calorie diet.
You couldn't stomach one more green drink or "secret formula" shake.
You were dying for something the plan said you couldn't have: carbs, fat, sugar, gluten, whatever.
You absolutely couldn't keep up with the hours upon hours of exercise that the program demanded.
You stuck with it and completed the course, but ran out of guidance or motivation to keep it up, and fell back into old habits.
These problems are all way, way too common in the fitness industry. Crash diets, fad diets, extreme workout programs, and general confusion are par for the course. The internet and bookstore are filled to the brim with conflicting, contradictory, and confusing advice that leaves you feeling helpless and lost. We keep adding and adding advice until it just becomes a meaningless buzz.
But complexity is not the answer, it's a barrier between you and success. The answer is something that just makes sense.
---
Let me pause and tell you a little bit about myself and my journey. I'm Travis Lane, and for years now I've been working on helping people understand and implement lasting change in important areas of their lives. I'm a rigorous disciple of self-improvement, and when I find something that works for me, it burdens my heart to share it and help bring others up. My personal mission is making important things make sense.
Your health, your body, is an important thing, and taking care of it should make sense.
Many of you probably share my story. Here's a picture of me in high school (yes… double necklace and armband… it was high school, okay?):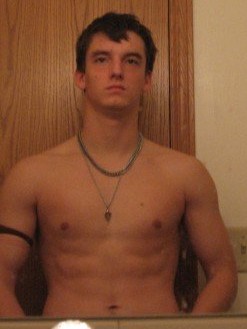 A combination of youthful metabolism and a year-round sports schedule that kept me doing intense exercise 12 or more hours a week honed me into a lean machine as a teenager.
Then life happened.
Over the next 10 years I would gradually put on 35 extra pounds (on a 5'7″ frame). I was never "obese," but I certainly became unhealthy. I told myself for years that my diet was "good enough," and that my exercise was sufficient to keep me in shape.
The scale, and the mirror, told a different story.
After years of experimentation, I finally learned how to really make lasting change in my body. Without starvation, without hours of extreme exercise, without gimmicky smoothie drinks or shakes, I was able to healthily shed 25 pounds in a few months. Here's a before and after:
And the crazy thing is, I was proud of the before picture! This isn't a camera trick or a marketing pose, these were both pictures I was happy with at the time. I didn't even realize how out of shape I was until I got in shape. I never knew what it felt like to be truly healthy until I implemented this plan. High school me was ripped, but just young. Now, I'm actually healthy, and best of all, the plan is simple and sustainable. It's lasting change that will affect the entire course of your health, for life.
That's what I want to share with you now.
---
HealthSense is the result of my research and personal success story. It's a comprehensive program that will give you an outline for change that lasts a lifetime, along with coaching, encouragement, and support when you have questions or need help. And if you're sick of the musclehead, fad diet, restrictive stuff that hasn't worked for you in the past, you'll be glad to hear about HealthSense. Here's how HealthSense is different:
No starvation. The meal plan will keep you actually feeling full while providing superior nutrition and lowering calories.
No restrictions. Your body needs a variety of nutrients, and it's foolish to cut them out of your diet. This plan is balanced, and instead of yelling at you to "power through" cravings, it addresses them in healthy, fulfilling ways.
No "insane" exercise regiments. Time in the gym on this plan is less than 3 hours per week. The focus is on efficiency rather than raw effort.
No confusion. The lessons and outlines really make sense, so you can purge all the conflicting voices and learn what actually matters.
All of this leads to behaviors that are sustainable and that make sense, so you can make honest, lasting change. You can finally get off the health and fitness merry-go-round and, maybe for the first time, be truly healthy.
---
Interested yet? Whether you're fully on board, want to know more, or aren't quite sure, sign up below to receive email updates on HealthSense. In order to provide quality help and service, there are a limited number of slots for each cycle of the course, so sign up for updates and act quickly when it opens up for registration!